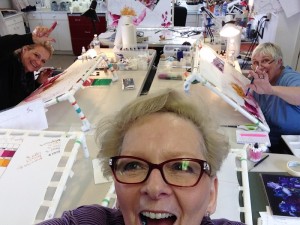 Karen teaches private and group classes from her home studio in Port Angeles, WA. In addition to the classes listed below she teaches private and semi-private classes as well.

If you are interested in any of these classes click here to contact Karen Karen answers every email she receives! If you don't receive a response please check your spam folder and/or try again.
The 5 day workshop: If you choose to be a private student, we will talk about exactly what you would like to learn while we are together again. I will guide you through the basics of silk painting, with each and every motion focusing on preparing you for my "Sistek Sizing Technique" You will finish your masterpiece in class, mount it on to canvas as I do for the galleries, and have it ready to hang on your wall when you walk in your door. I guide you in preparation for using my sizing technique, by using my oval mop brushes, and scrubbing the dyes to move, using less dyes, rather than adding dyes and letting them flow. We will focus on:
Stretching your silk using my PVC pipes and 3 way connectors.
Transfer a pattern on to silk
Mixing colors: How to achieve the perfect shade. I will share my 'favorite greens' recipe.
Bridging colors: Learning how to blend colors to avoid getting 'muddy'.
Layering colors.
Shading: Focusing on light source, shade, and all important contrast
Texturing: Using the refillable mechanical pens to apply dye, alcohol or vodka for texturing
Steaming: The all important process from start to finish. Rolling in to paper, preparing the steaming bag, how to make your own steamer, rinsing, fixative bath, ironing.
We will all work on the same pattern that I will provide. We will start out all working at the same portion together. I will demonstrate, then you will paint that portion, we will advance together, until you are ready to proceed on your own… spread your wings!
Spraying Magic Sizing on to your 16mm stretched silk habotai. Learn the all important correct way to spray on the sizing evenly and completely.
Transferring your pattern on to your silk using Generals "Sketch and Wash " Pencils
Transferring your practice pattern on to your practice silk.
We will first start on your practice portion of your project. Getting acquainted with how much dyes to apply, keeping the dyes to the tip of your brush. Diluting with sizing, alcohol, or vodka, or "mix" ( no water). You will be more comfortable making the change to experience the sizing* magic!
We will experience all of the techniques mentioned above, but now with out the cumbersome and restrictive resists. You will be able to create fine art details on luxurious silks! Once your masterpiece is steamed and rinsed, we will complete your project by experiencing the mounting process, transferring your painted silk on to gessoe prepared canvas, as I do with my art for the galleries. No need for a frame, it will be ready to hang on your wall when you walk in your door. Silk artists from all levels of silk art appreciate starting this process from the beginning to make the transition. In consideration to others, please refrain from wearing perfumes or scented lotions. Please contact Karen for pricing, lodging, and shuttle information from SEATAC Airport, Seattle Washington.